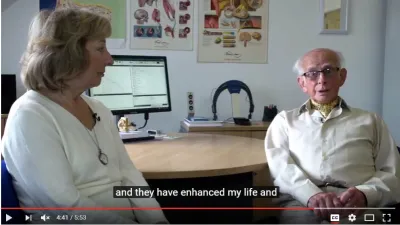 How better hearing helped David regain his quality of life
David Dean noticed his hearing deteriorating over a period of 13 years. He started having to get people to repeat things and was trying to tell what people were saying by the expressions on their faces. It got to a point when it was affecting his lifestyle and he was stopping doing things he enjoyed. It even affected his relationship with his wife, Ann. Ann effectively became his interpreter, explaining what people had actually said after events. And Ann felt David's hearing loss was isolating for both of them. David had hearing aids fitted, but didn't find them to be much help.
Ann and David moved away from Newbury, having lived there for many years. So on a visit to see family, David paid a visit to us for an assessment. Compared to his previous experience, David found our assessment process far more thorough and professional. And our audiologist asked him many more questions to find out more details on his way of life.
Following this initial assessment David was fitted with some wireless, state of the art hearing aids. And after some fine tuning, to personalise the hearing aids to suit his specific needs, David experienced an "immediate, dramatic improvement." And Ann "couldn't believe the change and the difference."
"They've given me a quality of life that I was losing", said David. "They have enhanced my life and I'm a younger man for it!"
Charlotte's Better Hearing Journey to Team GB
Just after Christmas several years ago, our sister company, the Hearing Aid Repair Shop (HARS), fixed a hearing aid belonging to Charlotte Payne. Charlotte had mock exams coming up, so it was vital that her hearing aids were working properly and she could hear well.
Charlotte certainly hasn't let her hearing loss hold her back and is now one of Britain's leading young athletes.
Charlotte was diagnosed with hearing loss when she was just 3 years old and her parents were told that she wouldn't be able to balance properly either, which was understandably worrying. After trying different types of hearing solution, with different hearing healthcare professionals, Charlotte struggled to find a solution that enabled her to hear effectively at school and in many other social settings. Overtime this hearing loss made everyday tasks much more difficult to complete, which caused a huge amount of frustration.
Through HARS, Charlotte and her family got to know us and that changed everything! Denise Payne, Charlotte's mother noticed an immediate difference after using her new hearing aids: "Charlotte really turned a corner and I have no doubt at all that her confidence has grown massively since getting the right hearing aids for her. Little did we know that she would achieve what she has in sport and attain top grades in her A-levels, especially after being told she would never read properly." Being able to communicate effectively in social settings and passing exams based on her early diagnosis is one thing, but Charlotte isn't one to rest on her laurels.
Joining Team GB
Overcoming adversity is something Charlotte achieves on an almost daily basis. Charlotte's hard work, determination and endeavour has seen her become one of the top prospects in British Athletics. A few months ago, Charlotte faced the strongest and most experienced Hammer-Throw competitors in Britain as she took part in the British Athletic Championships 2020 - walking away with a Silver medal at just 18 years of age! It's great to see this level of success, and something that makes it all the more special, is the fact that Charlotte is able to slot in with the GB Team and socialise with her teammates without having to worry about not hearing them.
The world is Charlotte's oyster, as we also received the great news that she has been selected for the Olympic Futures Programme by British Athletics. Great work Charlotte!
Denise is also keen to outline the importance of a knowledgeable hearing specialist that can find the right hearing solution for your specific needs. "Mary Hare Hearing Centre have been absolutely fantastic and have become real friends to the whole family! Nothing is ever too much trouble and we're so grateful."
Book your free initial hearing assessment
If you'd like to book a free initial hearing assessment with one of our expert audiologists call us on 01635 523 343 or email us at newburycentre@maryhare.org.uk